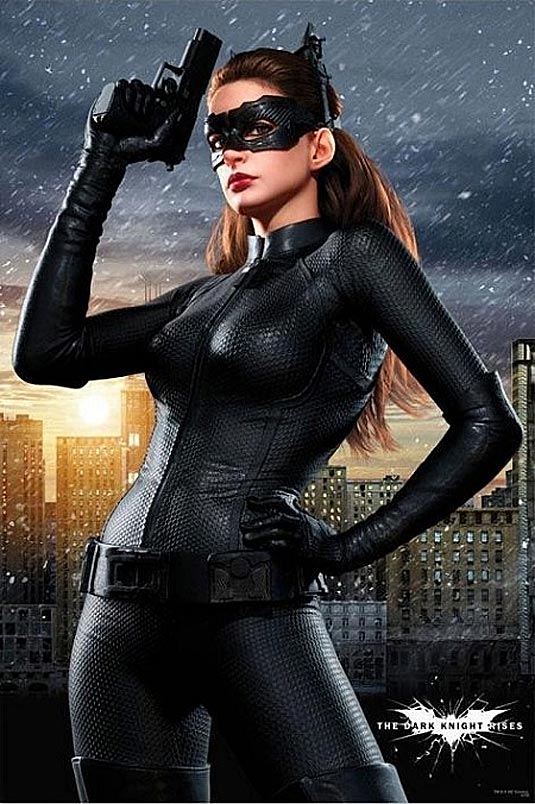 The Dark Knight Rises
arrives in theaters this week, and the critical reviews are pouring in. Its safe to say the film is a massive hit with critics as it will be with audiences as well. I'll post some
spoiler-free
highlights from various critics below, so don't be afraid to read. All the newcomers have been praised, with Anne Hathaway (Catwoman/Selina Kyle) and Tom Hardy (Bane) seemingly nailing their performances as the two main newcomers.
Nolan also leaves a window open for sequels, although not necessarily for Batman and not necessarily for Nolan to direct. Among other possibilities, Anne Hathaway's sensational introduction as Catwoman makes a stand-alone movie for her enticing. Damn, the girl's good in the physical aspects of her cat burglar role, as well as being sexy and funny whether playing Selina Kyle or her feline alter-ego. -
Bruce Kirkland, Toronto Sun
With spectacle in abundance and sexiness in (supporting) parts, this is superhero filmmaking on an unprecedented scale. Rises may lack the surprise of Begins or the anarchy of Knight, but it makes up for that in pure emotion. A fitting epitaph for the hero Gotham deserves. 5 Stars out of 5. - Empire Magazine
Tom Hardy, Joseph Gordon-Levitt and Marion Cotillard, recruited for duty after their stints in "Inception," are all on their game here, blending easily in a supporting cast anchored by old pros Caine, Oldman and Freeman. Perhaps the riskiest casting choice was that of Hathaway in the potentially problematic role of Selina/Catwoman, but although her kitty outfit reps a slightly more cartoonish touch than Nolan's neo-noir aesthetic typically allows (if nowhere near as campy as those worn by Halle Berry and Michelle Pfeiffer), the versatile actress nails the sardonic, hard-edged tone necessary to make this morally ambiguous vixen a dynamic foil for the Caped Crusader.
- Variety
Talk about a tough act to follow, but "The Dark Knight Rises" doesn't just follow it; it tops it in almost every way, making it a guaranteed frontrunner for Best Picture. Where most trilogies end on a weak note (witness the likes of "Return of the Jedi" and "Spider-Man 3"), "The Dark Knight Rises" succeeds as an epic triumph that scales the rare heights of "The Lord of the Rings: The Return of the King," making it the crowning achievement of the Batman trilogy and the biggest, best, most exciting Batman of them all.
- Scott Mantz, Access Hollywood
What brings Batman out of his shell and back into his bat suit? It starts with his attraction to Selina Kyle (Anne Hathaway), a cat burglar who teases Bruce wickedly while hiding a secret agenda. Hathaway – sexy, scrappy and fast with put-downs – is dynamite as Catwoman, bringing welcome humor to a movie about to be enveloped in darkness. And no one is darker than Bane (Tom Hardy), a battering ram of a villain, his face covered by a grille that feeds him medicine to alleviate pain he's suffered from childhood. Hardy's face is covered for 99.9 percent of the film, but his physical and vocal performance is riveting. - Peter Travers, Rolling Stone