Abby Wambach has ended her stellar career, playing in her final match for the United States Women's National Soccer Team in a 1-0 loss to China. She finishes with 184 International goals, a record for both women and men. The match was also significant as it was the US Women's first loss on home soil since 2004. It's almost fitting though, as the team gets set for yet another big change. Shannon Boxx, Lauren Holiday and Lori Chalupny also retired. That previous home loss in 2004 was during the 2004 Olympic Gold Medal victory tour, at the end of which saw fellow US Soccer legends Mia Hamm, Julie Foudy, Brandi Chastain & Joy Fawcett retire.
Speaking of Hamm, Foudy and Chastain, they were in attendance. And yes, they will be tearing up Bourbon Street with Wambach & Co:
— Julie Foudy (@JulieFoudy) December 17, 2015
Even though there were some questions as to whether Wambach would retire or not during the summer, you kind of felt it coming after the team won the Women's World Cup. At the start of this victory tour, it just felt like she was content and ready to move onto something else. Fittingly, Homare Sawa of Japan retired on the same day, sending off two of the best female players together.
Abby's legacy will not just be about all the goals she scored or the gold medals won. Her leadership and ability to rally her team (see: 2011 Women's World Cup match against Brazil) will be up there as well. She's also known for her being as awesome as can be when interacting with fans.
While giving an interview to FOX Sports after the match, "Beautiful Day" by U2 was playing over the stadium loudspeaker, which is a perfect way to describe Wambach's final match and career.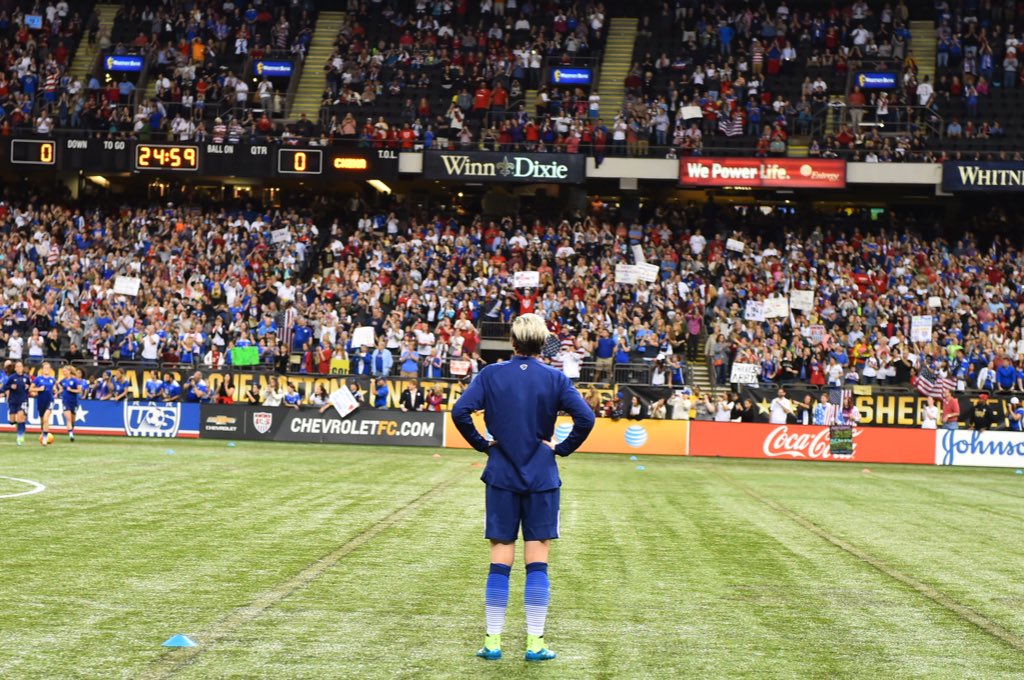 Abby Wambach looks on the Superdome Crowd