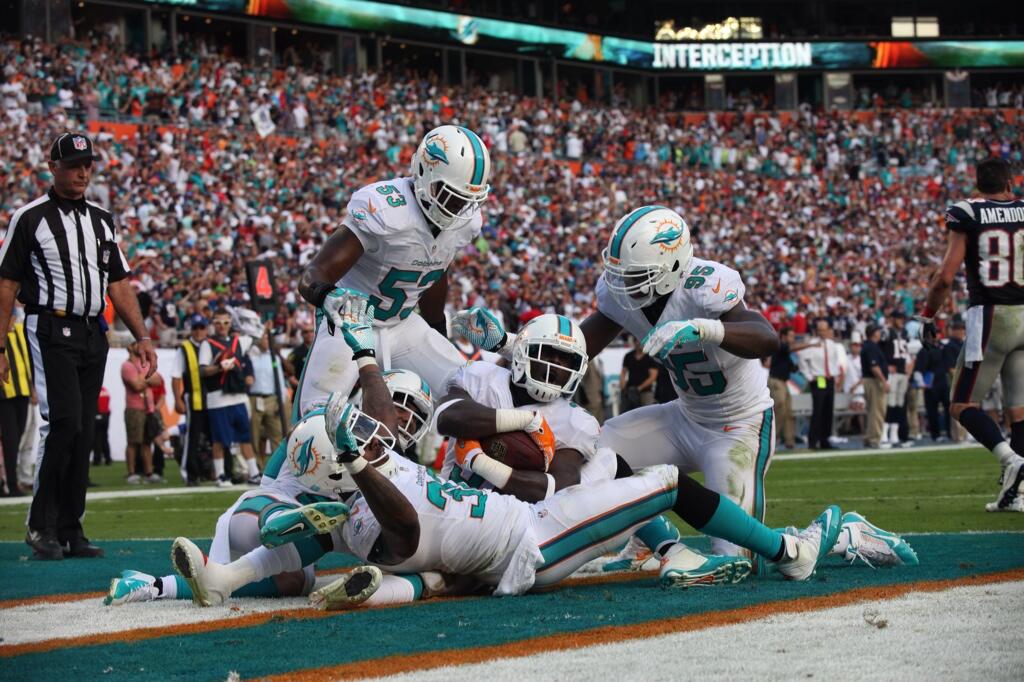 Michael Thomas, an NFL player who was part of the 49ers Practice Squad a week ago, was claimed this past week by the Miami Dolphins when one of their cornerbacks went onto Injured Reserve. Many Dolphins players didn't even know his name yesterday, and neither did most fans. Yet, with the Dolphins leading the Patriots 24-20 and the Patriots at the goal line in the final seconds of the back and forth game, Thomas intercepted future Hall of Fame QB Tom Brady in the endzone to seal the big victory for the Dolphins. Is there a better feel good story? NBC really dropped the ball by not making this late season clash a Sunday Night Football game before the season (CBS protected it from being flexed). Though it may have worked out for the Dolphins, as the Patriots defense seemed to wilt in the heat.
To add to it, Thomas was only in the game because the two starting Cornerbacks for the Dolphins had to leave the game after being banged up. He is primarily a Safety, but Miami needed him at Cornerback. He knew Brady would throw at him, and he stepped up to deliver a memorable victory for Miami and put them in the drivers seat for the playoffs. After that whole Jonathan Martin-Richie Incognito drama, the Dolphins are playing better, going 5-2 since then and easily the hottest team in the AFC. How long can they keep it going?
A frustrated Tom Brady cursed and walked off the podium during a press conference. Dolphins QB Ryan Tannehill is currently outshining the rest of the 2012 draft class, Andrew Luck, RGIII and Russell Wilson, all of whom get talked about more than Tannehill. The Dolphins went from a team being attacked and debated about across the country to a storybook team playing exciting football. Let's hope this keeps up.