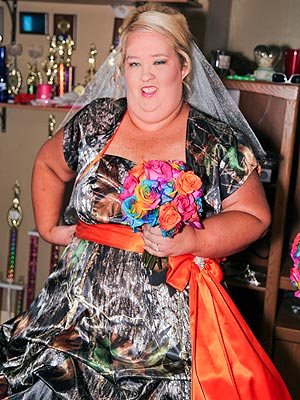 Mama June on her Wedding Day
'Here Comes Honey Boo Boo' is back on TLC (with Watch 'n' Sniff cards), and Mama June is making the promotional rounds in New York City this week, all during a sweltering heat wave. In honor of the return of everyone's favorite rednecks, I've decided to share the best spoof of Honey Boo Boo...Precious Plum.
Courtesy of College Humor, Precious Plum is a spot on and hilarious parody of Honey Boo Boo, taking everything from that show a huge and ridiculous step further. There are three short episodes so far, and hopefully with many more to come. Watch the first three episodes below, as Plum heads to a "Little Miss Tiny Tits" pageant in the parking lot of a waffle house in Chunky, Mississippi. She then adventures to the "Miss Tallahassee Tiny Hussy" competition in the basement of a shut-down Staples. Finally, Plum makes her way out to become "Best Drifter Midriff" under a bridge by that big mural of a dick.