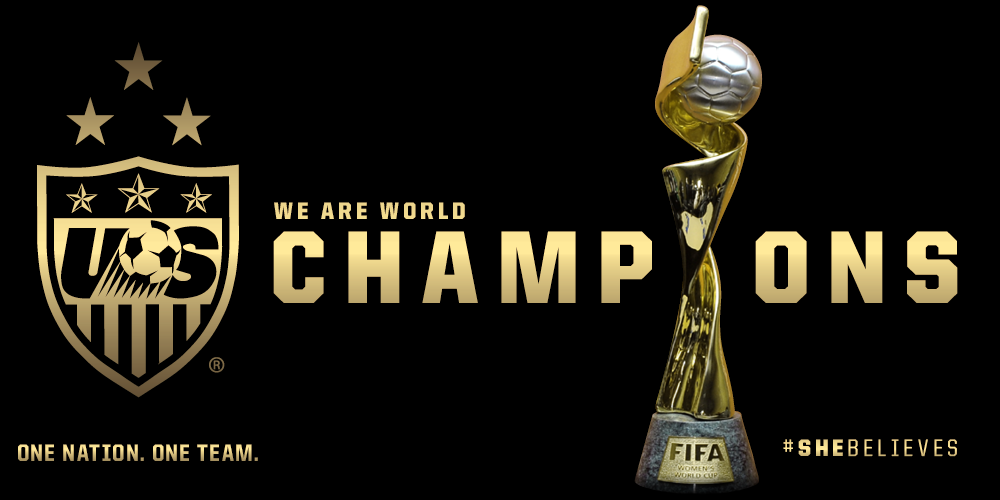 USA Are 1st To Win 3 Women's World Cups
The highly anticipated rematch which saw the United States take on Japan at the FIFA Women's World Cup ended differently than the last. While Japan won a nail biter in 2011, Carli Lloyd scored a hat trick in the first 16 minutes of this match - a record. The US had a whole set piece plan in place, with two low driven balls the cause of the first two goals. Japan finally settled down after a rare poor start, and they never gave up, but it wasn't enough. Japan fought back after the score was 4-0 to make it 4-2. They deserve a ton of credit for that, we've seen teams (ahem, Brazil men) just completely collapse after going down big. They composed themselves and made it close again, giving their fans a little hope they could mount what would've been a historic comeback.
However it was not to be, as Tobin Heath quickly buried a 5th goal, showing their determination to not let this slip away. Japan fought back twice in 2011 and won, so the US were ready to respond. USA defeated Japan 5-2 to win their third Women's World Cup title, previously doing it in 1991 and 1999.
Carli Lloyd won the Golden Ball (basically, MVP) of the tournament. Carin Jennings was the last US player to do so, back in 1991. Japan did have a fantastic tournament. Its possible that being in the sunlight may have hurt them (I mean really Vancouver, who designed that?). Regardless, the US were not going to lose this game, and Lloyd would make sure of it. They had an outstanding game plan that shocked Japan. Japan defender Iwashimizu lost Lloyd twice, and was in tears after being subbed out early. She was normally a tough defender, but she was unfortunate to face a determined Lloyd in full Beast Mode. Homare Sawa came on in the 1st half and helped calm things, but it just wasn't enough. In hindsight, she probably should have started.
I don't think Japan will lose too much sleep though, they get to keep the 2011 World Cup Gold Medals, as well as those silvers from London 2012 and the 2015 World Cup.
Both Abby Wambach and Christie Rampone came into the game late to help seal the deal. Rampone was the last active player from the 1999 Women's World Cup championship team. Someone who didn't come onto the field? Sepp Blatter. He wasn't there to present the trophy and medals for fear of being arrested and sent to the US. The match was better off without him though.