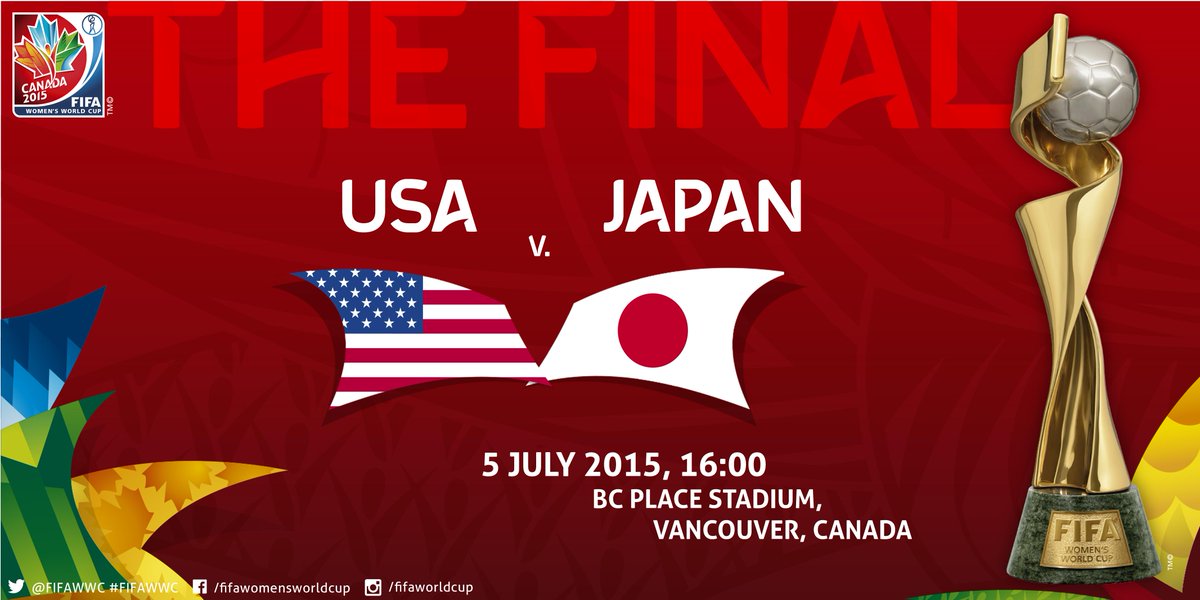 The Third Place match and Final Match of the 2015 FIFA Women's World Cup are set. However, I just have to touch upon England first after that match. The beautiful game turned devastating for them.
England, the Lionesses, had an ending that left most people gutted/devastated. A solid 1-1 match between England and Japan was headed to Extra Time. Then Japan sent the ball into the box and the reliable Laura Bassett went to clear it. Only the ball just hit the crossbar and went down into her own goal, giving Japan the 2-1 lead and win. It was a freak play and an extremely rare way to lose a game, so Bassett should not feel bad at all. However, England shouldn't feel bad. They've grown so much over the past few years, and can rightly be seen as a top contender now alongside Japan, USA, Germany, France, Sweden and Brazil.
It would have been fun to see England back in a World Cup final for the first time since 1966, and the first time in the Women's World Cup. That country really has no luck in this sport. Don't worry though, the England Women won't need luck at the 2019 Women's World Cup, which will be held in France. They should be a contender to hoist the trophy. I'll be cheering for them to win the third place match against Germany. How about a Bronze Medal for Lucy Bronze and co?
England frustrated Japan, who struggled when it came to finishing even as they dominated in the passing category which they always do. England were firing off some good shots, and Ayumi Kaihori made an excellent save to prevent a goal from Ellen White. Kaihori doesn't get enough praise from the media.
So USA and Japan are set to meet again, for the third straight major final, on Sunday July 5th. Japan won the 2011 Women's World Cup final, while the US won the London 2012 Olympic final. This is the first ever rematch in the Women's World Cup. Japan will be looking to join the US & Germany as two-time winners. USA will try to become the first Women's team to win three World Cups, and their first since 1999. Something to watch will be to see how Japan uses Mana Iwabuchi. The super sub is incredibly fast and may have as much talent as Marta. Will she play longer, and can she get behind the outstanding US defense? USA is riding high on confidence right now, and the midfield and attack are starting to click.
Japan should get a goal, but the US should be too determined in this one. Alex Morgan has just one goal, but that was to be expected as she returns from injury. She is creating space and chances, which can be just as beneficial. Both teams have a variety of players who can score, and both have a solid defense with the edge going to USA. This will also be the final World Cup game for Abby Wambach, as well as 1999 veteran Christie Rampone who probably won't play due to an injury. It will also be the last for Japan's Homare Sawa, in her record 6th World Cup.
England will take on Germany for Third Place on Saturday. I'm picking them to win this game and go out on a high note. Maybe that's just me feeling bad for them due to losing on a freak own goal. I mean, its an angry Germany coming their way. They do have the ability though, which they showed against Norway and Japan, two previous Women's World Cup winners. I say England get an emotional win to go out on a high note.
For the first time, Sepp Blatter will not appear at a final. Of course he won't. He's afraid he'll have a "Handshake for Peace" with an FBI Agent who will turn it into a Handcuff for Peace.