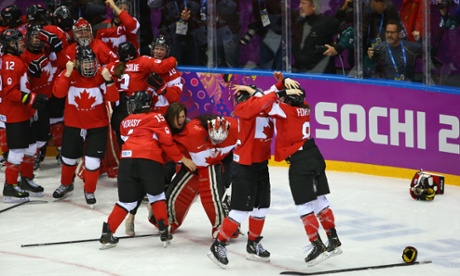 Canada Celebrates Snatching Gold Away from USA
The stunned part of the USA-Canada Women's Ice Hockey match at the 2014 Winter Olympics comes from how they lost, not that they lost to a team considered their equal. USA & Canada are the two powers of Women's Ice Hockey, after all.
USA looked the better of the two for most of the game, and led 2-0 late in the 3rd period. Canada scored with about five minutes left to make it 2-1. They then pulled their goalie as time wound down some more. USA got the puck and launched it across the ice towards the open net. It just hit the post and bounced away, barely missing the game winning goal. Canada got the puck, and with less than a minute left, scored the game tying goal. It was a crushing five minutes, and after that you just had a feeling that it was now in Canada's hands. Sure enough, they stayed tough in Sudden Death Overtime and capitalized on US penalties to get a power play goal and their 4th straight Gold Medal.
You can't help but feel for the US players, who have worked so hard only to come up short. They won the Gold at the Nagano 1998 Olympics, but since then have settled for Silver in Salt Lake, Bronze in Torino, and silver in both Vancouver & Sochi. However, their play against Canada has reminded people just how exciting of a sport Hockey can be. The fast pace in a down-to-the-wire game with everything on the line sets it apart.
The USA-Canada ice hockey rivalry keeps going when the Men face off in the Semifinals tomorrow. Winner goes on to the Gold Medal match against either Finland or Sweden, loser goes into the Bronze Medal match.