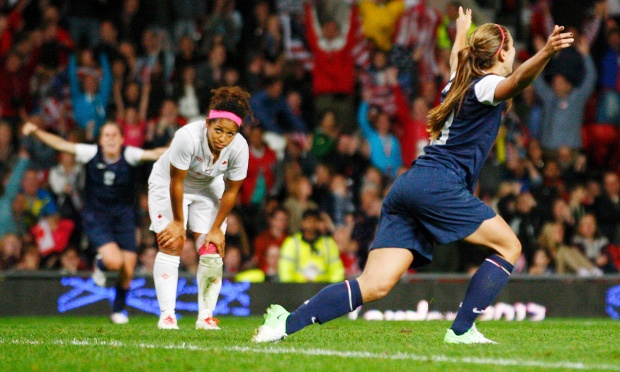 Alex Morgan celebrates her game winning goal in London.
The United States Women's National Soccer Team will be taking on Canada in a rematch of one of the most buzzed about moments of the London 2012 Olympics. It will be the first time the two teams have faced off since that
outstanding
and
controversial
game this past summer.
The game was without a doubt the most famous and talked about soccer match in Canadian history, and certainly up there in the USA as well along with games from the 2002/2010 World Cups & 1999/2011 Women's World Cups. Canadian striker Christine Sinclair put on a clinic by scoring three goals for Canada during the match. The USA answered them each time with a goal of their own. One of which was the controversial and rarely called time wasting penalty against the Canadian goalkeeper Erin McLeon, followed by a handball, which allowed Abby Wambach to even the score at 3-3. In overtime, Alex Morgan headed in the 4th and final goal in the closing seconds of the match to give the US the 4-3 victory and send them into the Gold Medal match where they beat Japan 2-1. It was the latest goal ever scored in a FIFA competition. Canada won the bronze after defeating France.
The rematch will take place on Sunday June 2, 2013 in Toronto, Canada at BMO Field, home of Toronto FC of MLS. It will be broadcast live on ESPN or ESPN 2 at 4:30 PM ET for our viewing pleasure, as well as on Sportsnet in Canada. Let's just hope they don't have a giveaway of anything that fans could throw on the field (kidding, though I'm sure it will be LOUD) in what will be an intense and emotional game. They call it a "friendly", but both teams will be playing this as if its the World Cup. Wambach & Sinclair are also both chasing Mia Hamm's all-time scoring record.
The scheduling is perfect timing as the new professional women's league, the NWSL, will be in its first season from April to August. This is the first pro league to be backed by the United States Soccer Federation (USSF), Canadian Soccer Association (CSA) and Mexican Football Federation (FMF). That combined with teams in the soccer-crazy Pacific Northwest will make this league a success.