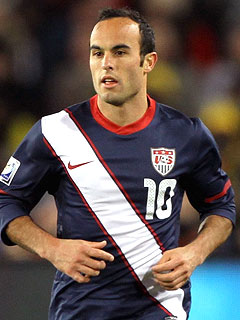 Landon Donovan has retired from the United States Men's National Soccer Team at just 32, still in his prime. He became the most recognizable male soccer player to ever come from the USA, doing for them what Mia Hamm did for the Women's Team, providing a spark in being able to both score goals and set others up with assists, a quality that isn't found often. His late goal against Algeria in the 2010 World Cup to save the US will always be remembered as one of the best goals of all time.
He didn't have the best relationship with current coach Jurgen Klinsmann, who left him off the 2014 World Cup roster. However, considering he's taken breaks from soccer before, it was clear he has other interests outside of the game. People saying he retired just because of Klinsmann are off base. He'll also be retiring from the LA Galaxy in Major League Soccer (MLS).
As for the future of the Men's National Team, the excitement continues to build off of 2014. It's now at a place where just getting out of the Group Stage will no longer be considered a success. Looking at the team since the 1994 World Cup they've done quite well:
1994: Lost in Round of 16.
1998: Last place, Lost in Group Stage.
2002: Lost in Quarterfinals (with an awful non-called handball against Germany).
2006: Lost in Group Stage.
2010: Finished top of the group, lost in Round of 16.
2014: Lost in Round of 16.
They've gotten out of the Group Stage enough to where the stakes are now raised. Its time to finally equal or better that 8th place finish at the 2002 World Cup.