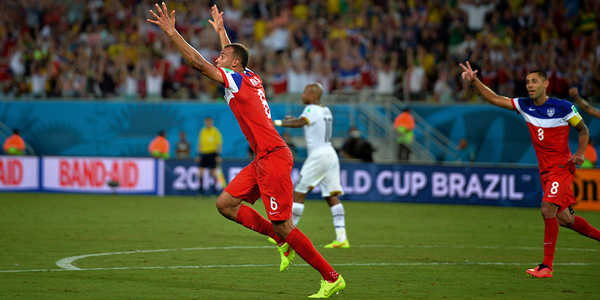 John Brooks Makes US Soccer History
Michelle Akers (1991 Women's World Cup). Shannon MacMillan (Atlanta 1996 Olympics). Landon Donovan (2010 World Cup). Benny Feilhaber (2007 Gold Cup). Carli Lloyd (Beijing 2008 Olympics). Abby Wambach (2011 Women's World Cup). Alex Morgan (London 2012 Olympics). Who would've thought that John Brooks, in just his 5th appearance for the United States National Team, would join that list of US Soccer players to score a late game winning/tying goal in a major tournament? Not many...but it happened, breathing life into what was about to be a poor draw for the USA with games against Portugal and Germany ahead.
It was a game mostly dominated by Ghana. Clint Dempsey scored the sixth fastest goal in World Cup history after 34 seconds. After that, Jozy Altidore went down with a hamstring injury. Ghana took total control, and by the second half it was rare for the US to have any offense. Tim Howard came up with a few big saves, and Ghana sent some shots flying high and wide to keep the 1-0 USA lead. Starting defender Matt Besler left the game with a hamstring bothering him...which led to John Brooks coming in. Ghana finally scored in the 82nd minute, and it looked dire for the US. Then on a corner kick in the 86th minute and a rare chance to score, Brooks headed the ball into the back of the net much like Abby Wambach at the 2011 Women's World Cup. It sent the US up 2-1 and they held on for the win and 3 points, as well as redemption after being eliminated by Ghana in 2006 and 2010.
Many thought Brooks might not even make the squad. But the German-American made it and made a difference. The United States' German coach Jurgen Klinsmann won't be second guessed about that move. Germany has done well to help the USA during this World Cup.
Phew. Losing Altidore hurts, and the United States will miss him. However, Portugal will also be missing some key players. USA will need more possession than they had against Ghana, as you can't imagine Ronaldo missing as many shots as Ghana did.
Watch Abby Wambach lead the "I Believe That We Will Win" chant as the Women's National Team watch party: