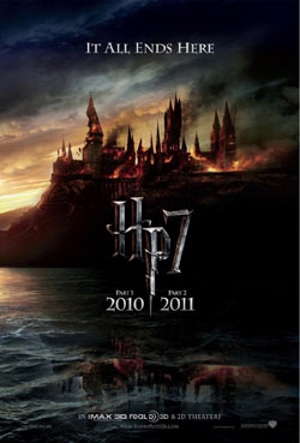 Harry Potter & The Deathly Hallows Part 2
is now here, and concludes the film series based on the books by J.K Rowling. As many of you may know, it has been getting the best reviews of the eight films, and even generating some much deserved Oscar buzz. I, of course, think it should at least be nominated for Best Picture, as well as other categories like effects, score, possibly even a supporting actor nomination for Alan Rickman. This is without a doubt the most action packed of the films, and really moves by quickly, at a little over 2 hours. I would give the film about a 95 out of 100, knocking a few points off because of some things I'll put below the cut. And it's been announced that the film has surpassed
The Dark Knight
to have the biggest opening weekend ever in the US, with around $168 million. It also crushed the
Twilight
record for biggest midnight opening, as well as biggest single day ever, grossing $92 million on Friday alone. The Harry Potter finale has cast a big spell, with records that should stand for a very long time.
Now, possible
Spoilers
beyond here, click "read more" for the rest, and thoughts on possible extended edition DVDs/Blu Rays.
While I loved the film, I thought that the final battle could have been longer and showed more of what each individual character we've come to love over the years was doing during it. We didn't see any of the DA members fighting with the death eaters, except for Neville. Of course, the movie focuses on Harry, Ron and Hermione so obviously they were going to get the time. But, with this being the shortest film they could have put it in some more, especially for the characters who die. The deaths were very abrupt, and could have been more emotional. We didn't even see them happen, just when they go back into the great hall and we see the ones who died laying on the floor. Oh, and line of the movie goes to Mrs. Weasley, "Not my daughter you bitch"! It was also the most memorable line from the book. And Maggie Smith did an especially great job in this one as McGonagall. She by far had the funniest moments. They way they handled the Snape storyline on screen was by far the best in the film, bringing on the tears for many people in the audience.
I assume we'll be getting extended DVD versions of the films, with lots of unused footage, similar to what they did with The Lord of The Rings. These films deserve it, especially this one. It's the end after all, I want to see Seamus, Luna, Ginny, Fred & George and all of them battling with the death eaters. I hope that maybe when Deathly Hallows Part 2 is released on DVD, they'll release an extended version as well, but I doubt that. We can hope for 2012 though. Each of the Lord of the Rings Extended editions contained over 30 minutes of new footage, with completed special effects included. The final one had 52 minutes added. Let's hope for the same with Harry Potter.
We know that more footage is there. One example is that Viktor Krum was filmed at the wedding in Deathly Hallows Part 1, but is not in the film and is not in the deleted scenes. That's just one example, but it does show a lot was cut. Do you all think we'll get extended versions?